read in:


Bulgarian vocal formation Divna publishes its first CD
25 April 2008 - Sofia, Bulgaria
The first CD "Milo libe" of Bulgarian vocal formation Divna has been launched on musical market. It is a production of 'Divna Art' Company and financially supported by the State Agency For Youth and Sports. The CD's cover is very impressive and stylish (arranged ethno motives escaping from the vivid colorfulness) as its conception for the repertoire is.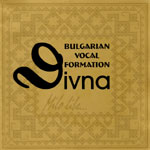 As Galya Haralambieva put into words: 'The idea is to make it lyrical, light and not overloading…make the listener feel like being about to start singing'. By leaning on the lyrics foundations and escaping from the traditional model of alternating fast and slow songs, new frames of expressiveness are being created. It is a relaxing, meditative music, with interpretation based on professionalism and specific manner of singing, which defines what Divna is different with. By choosing exactly these sixteen songs we can feel the touch of striving for complete variety.
The musical folklore dialects of the Rhodopes, Thrace, Strandzha, Middle West, and North Bulgaria are presented. Amongst the included songs are author's pieces and arrangements by Ivan Spassov ('Razvi se gora', 'Prolet nad Trakia'), Stefan Mutafchev ('Yano'gyuzel Yano'), Kosta Kolev ('Dai si ma maichinko'), Milcho Vassilev ('Milo libe'), Stoyan Paurov ('Syodnal mi e mlad terzia'), Emil Genov ('Mari Stanko').
The arrangement of the song from Velingrad 'Ibish Aga' (solo – Galya Haralambieva) stands as a peculiar centre of emotional attraction. The gradual impasto of voices and the specific ornaments seem to tone up the expressiveness and dramatism that usually accompanies a song. Moreover, by the impasto itself we could give meaning to the spreading of the time layers, from where the archaic prototype of the contemporaneous arrangement originates. Somewhere at this point the specific two-voiced singing from the village of Nedelino appears in the song 'Ramagane' (duet – Bisserka Danova and Elka Simeonova).
The very exotic sound of 'Malki momi kamash berat' (duet – Bisserka Danova and Vanya Vakari) and 'Mana mu' (solo – Velichka Chausheva) involve us one after another into the sound of the vlashko and karakachani folklore.
The actuality of the presented CD is undoubted. To a high rate Divna formation confirms its stable position on the musical market, legitimates to the public environment not as one of the next, but the different one.
Manuela Boncheva
Translation: Vera Genova