read in:


Footnotes - Concerts in Sofia
20 June 2013 - Sofia, Bulgaria
The month of June, as usual, heralded many folklore events in Sofia.

Folklore Dance Panorama
On June 1st, "Zornitsa" Students Ensemble held it's annual concert at the National Palace of Culture. This year we invited four other amateur groups, based in Sofia, to perform as well:
Folklore Dance Ensemble "Balka"'; Dance Ensemble "Sofia 6"; Academic Folklore Ensemble (AFA); and Dance Ensemble "Svetlina"
It was a wonderful evening and the name given to the concert was very apt as it was indeed a panorama, with dances from all regions of Bulgaria being performed. Of course this meant a variety of music and costumes as well. Apart from the dances Thracian Youth and Pusta Mladost (Macedonian), ''Zornitsa'' performed Bulgarsko Nastroenie (Bulgarian Feeling) which was made up of fragments from dances in our repertoire, including Vidinski and Jinovsko. Some of the dances shown by the other ensembles were Shoppian Suite; Ovcharski Igri; Erkechki Dance and Na Megdana.

A French dance friend enraptured by Bulgarian dances came especially for the concert and during most of Saturday, from 9 a.m., we were at NDK, watching rehearsals. The dancers were there the entire day and seemed just as fresh at 7 p.m. as they had been at 9 a.m. The finale, choreographed by Emil Genov (leader/choreographer of ''Zornitsa'') was spectacular. Simple but eye catching, the groups followed each other onto the stage dancing a small segment from one of it's own dances.
Throughout, there was a high level of dancing, much emotion, movement, colour, beautiful music - all the things that should be found in a concert worth watching!!!

On June 6th a ceremony celebrating the 60th anniversary of the Chemical University in Sofia, was held at the Opera House. After the speeches and presentations, a short concert was held and ''Zornitsa'' had been asked to perform. We have a connection with the University in that we hire a hall for our rehearsals; and Emil Genov also conducts his Choreography Classes there.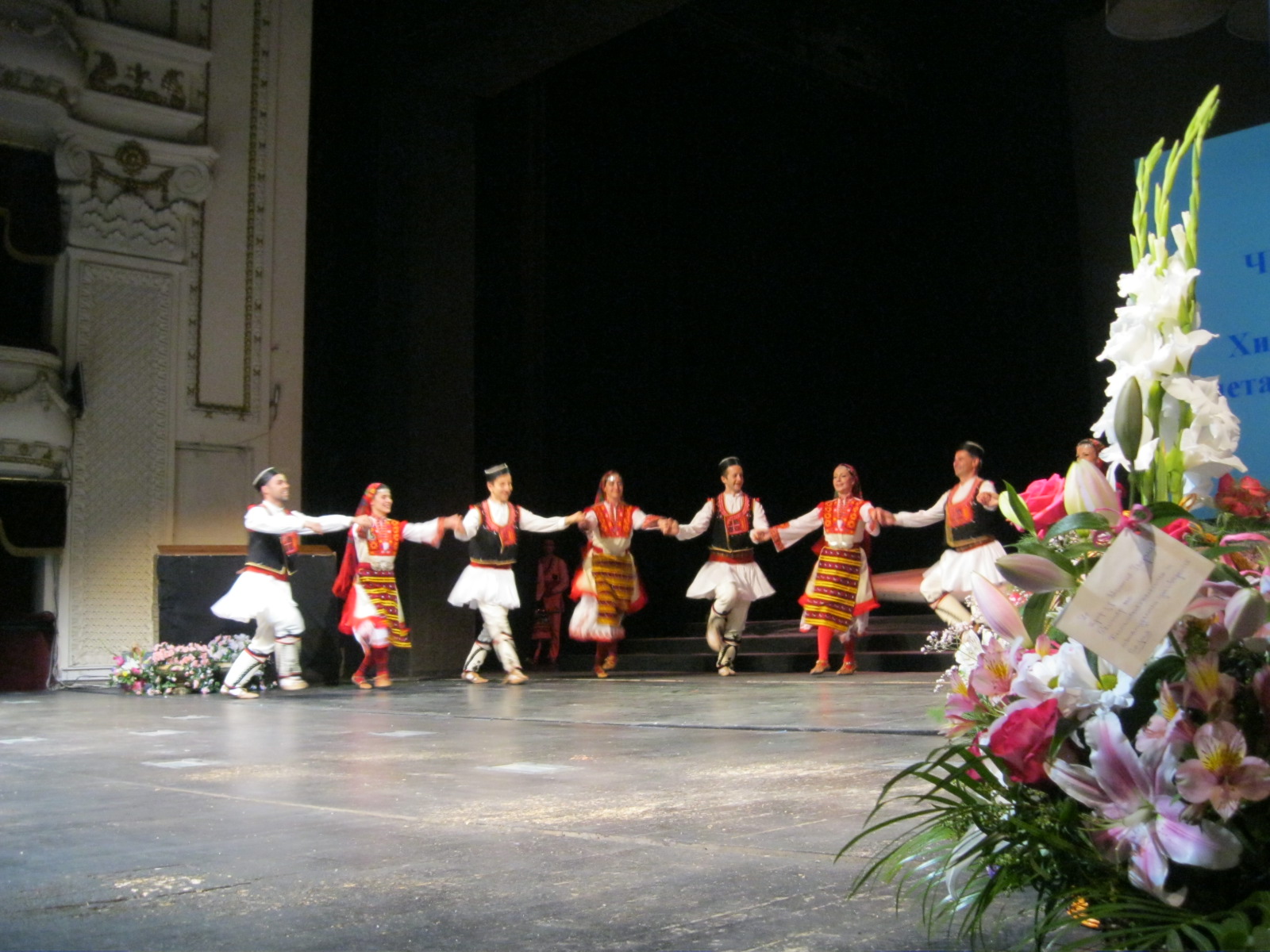 Every seat was taken with well dressed academics, professors etc. The concert was great, the first dance Egeya, Macedonian, men and women, was choreographed by one of Mr. Genov's choreography students who has been dancing with ''Zornitsa'' for some years. The second dance Shoppi Ergeni was also created by a young student and consisted of six men. Ergeni are young men looking for a woman to marry. After that came ''Zornitsa'' dancing Shoppian Suite, always a favourite with audiences. We now have new costumes made by Balkanfolk Atelier and they are a huge improvement on the previous which were more than 20 years' old. The gold on the women's dresses looked ever so sparkly!
It was a lovely concert, the dancing was preceded by opera singers and a girl playing violin, all accompanied by piano.

The National Palace of Culture was packed to capacity on June 14th for a concert given by Philip Koutev National Folk Ensemble to celebrate the birth of their founder (after whom the ensemble is named), 110 years' ago (1903-1982). The current repertoire has been developed over the years based on three main performing groups: a female folk choir; a mixed folkdance group; and a folk instruments orchestra. Capellas by the twentyone female choir were beautiful as were the songs sung with the orchestra e.g. Sluntse se slega da zayde; and the ''2-voices'' songs by soloists were wonderful. The first dance was Thracian Motifs (games in the fields of Trakia); after this came a variety of dances from other regions including Sborenki, a male dance from Dobrudzha; a dance from Srandzha and a military dance. Being a professional group we always expect the dancing to be impeccable, and so it was with the men showing their powerfulness and the women at times lively, but sometimes subdued which is more in keeping with authentic dances. As for the orchestra, when not accompanying singers or dancers they were slotted in to entertain us. We were treated to a gadoulka only composition; a tambura and kaval piece from Varna; and marvellous music of two kaval players.
Overall a most enjoyable concert.