read in:


The New Initiative of "GLAGORCI" - "BLACKSMITH FOR THE BULGARIAN FOLKLORE DANCES"
13 March 2012 - Sofia,
The folklore of Bulgaria is full of folklore dances, songs and music ever since our ancestors were part of being and their lifestyle, are attending every day or celebration. Bulgarian folk dances, songs and dances today are various not only in nature, complexity and style of performance, they are an expression of spirituality, temperament, individualism and mostly Bulgarian spirit.
Experience gained during the years of dance events, forums and spectacles helped us to understand that this unique heritage is in our hands to serve us properly, must be preserved in the same spirit in which our legacy.
Inspired by the success of Folklore Formation "GLAGORCI" we launched another project to fill the whole image of the initiative "GLAGORCI." - we called it "BLACKSMITH FOR THE BULGARIAN FOLKLORE DANCES"
That is why we GLAGORCI invite you to dance and study with us the Bulgarian round dances and rachenitsi in our "Blacksmith", which will not only build and further develop new skills and dancing steps, but will meet many new friends, united by the magic of dance and Bulgarian folk art ...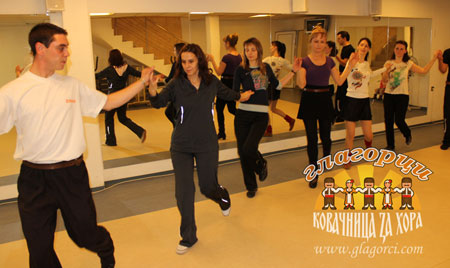 In the study will build our own style, but will keep all the authentic details that are specific to each ethnographic regions of Bulgaria. We welcome you among cozy and warm atmosphere in comfortable and welcoming rooms and our professional choreographers will take care of your overall tuition and mood.
Classes are held in the halls of the State Music Theatre "Stefan Macedonian", next to the "LEVSKI" Monument (entrance is from Panayot Volov str.) with the following program:
Monday:
18:30 to 19:30 am - Beginner
19:30 to 20:30 am - Advanced
Wednesday:
19:00 to 20:00 am - Beginner
20:00 to 21:00 am - Advanced

More information: http://www.glagorci.com/