read in:

Folklore-BG Monthly Electronic Magazine
1 May 2008 - Bulgaria
FOLKLORE-BG is the monthly electronic magazine for Bulgarian folklore. Each issue will present to you one of the best Bulgarian ensembles, one traditional custom, one of our beautiful horo dances and, of course, one delicious and typical Bulgarian dish. On the pages of FOLKLORE-BG you will find not only useful and interesting information about the folklore, but also video materials, traditional music and pictures from the beautiful Bulgaria. We will introduce to you dances and music from all regions of Bulgaria, stage dances, dances for the public, costumes and traditions – the color and essence of the folklore.

The May 2008 issue of FOLKLORE-BG is exclusively brought to you for free. Here you will find information on one of the leading non professional dancing ensembles in Bulgaria – "Zornitsa". You will be able to read about the interesting and very old custom "Kumichkane", learn how to prepare the delicious dish called "giuvetch", and also you will find something about our fast and joyful dance called "Daichovo horo". The short presentation of the "Daichovo" is accompanied by the typical music of this dance.

We hope you enjoy our traditions and have fun in reading the pages of FOLKLORE-BG.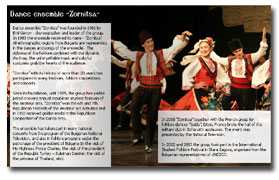 We wish you a very pleasant time with the Bulgarian folklore.