| | |
| --- | --- |
| Concerts | |
Bulgaria
28 Jun 2022
National Palace of Culture, Hall 1
Share

"The Dances of the Bulgarian" - Concert on the occasion of the 100th anniversary of the birth of Prof. Kiril Dzhenev


The ensembles "Trakia", "Filip Kutev", "Pirin" and "Strandzha" with a joint performance!

The grand event in honor of prof. Kiril Dzhenev will take place on June 28, 2022 in Hall 1 of the National Palace of Culture, Sofia

"The Dances of the Bulgarian" is the motto of the big show, which will bring together the ensembles "Trakia" , "Filip Kutev", "Pirin", "Strandzha" and the graduates of the National School of Dance Art - Sofia.

Professor Dzhenev / 1922–2006 / is the creator of over a hundred dance works, and his work became a factor influencing the art of his contemporaries and followers. Kiril Dzhenev has been a choreographer at the State Ensemble for Folk Songs and Dances - Sofia since its founding in 1951, and in 1970 he became a choreographer at the Ensemble "Pirin" - Blagoevgrad. His most striking work is the creation of the State Folklore Ensemble "Trakia" - Plovdiv in 1974.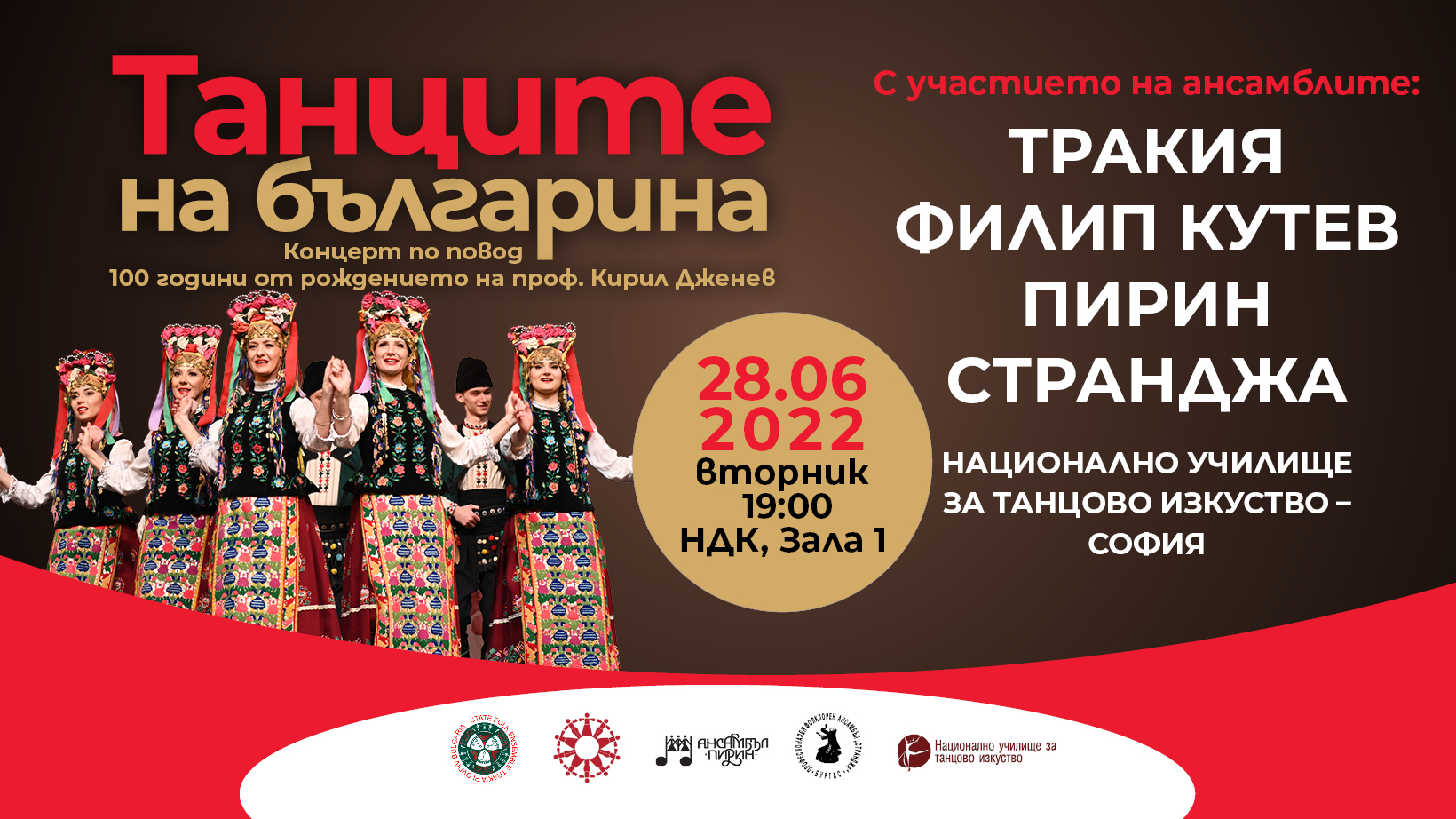 The performance "The Dances of the Bulgarian" will present classic examples of our folklore school - from dance, through music and vocal skills to beautiful and lavish costumes.

The performance "The Dances of the Bulgarian" will be held in Sofia, Hall 1 of the National Palace of Culture on June 28, 2022 at 19.00.

Tickets: eventim.bg and ndk.bg