Balkanfolk News
www.balkanfolk.com
Presentation of traditional Bulgarian arts and crafts in USA
19 June 2007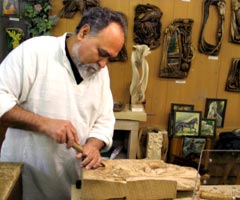 The presentation of traditional Bulgarian arts and crafts in the largest international festival of the United States, Silver Dollar City World-Fest, was expectedly successful during this year's edition of this forum.

"World Music Events – Bulgaria" Ltd. organized the presentation and the selection of the participating crafters belongs to Yanka Docheva.

For the fourth time, Vesselin Feschiev, the weaver from Veliko Turnovo, demonstrated his master-craftsmanship before the audiences of the Mid-West. His admirers from previous years could enjoy once again the fine touch of his woven artifacts and his craftsmanship.

Nikolay Nikolov, master wood-carver from Varna, took part in this forum for a second time. His carvings provoked exclamation of admiration with the visitors of the Festival, as well as with his colleague crafters. His "visit card" in Silver Dollar City is the crucifix which he carved from walnut material in the course of World-Fest 2000.

First-time participants this year were the master ceramic from Isperih, Svetlozar Parmakov and the leather-crafter from Sofia, Marieta Nedkova. The unique works of Parmakov were unanimously assessed as brilliant at the very beginning of the Festival and the superlatives about his master-craftsmanship were going on in an upward order until the very end. The high strength of the material which he uses – the porcelain, the exquisite forms of his artifacts, the hand-engraved ornamentations and the color uniqueness, which is brought to perfection through the use of silver, gold and platinum component paints, have established overseas another quality standard of the Bulgarian traditional crafts. The local crafters in Silver Dollar City and the Bulgarian master-craftsmen have shared their professional achievements and the ensuing friendship comes as a natural result from the sincerity of the professional satisfaction and communication that they have experienced, which is the true meaning and spirit of international festivals.