On December 16, 2012. / Sunday / 19:30 in Hall 1 of the National Palace of Culture - Sofia, Club for Bulgarian folk dances "Folklorika" will present folk concert titled "Ya izgrey, yasno slantse"
Viewers of the show will be able to enjoy the dances and songs of five ethnographic regions of Bulgaria - Dobrudja, Thrace, Northern, Pirin and Shopp.
The paintings will be attended by 350 artists from school "Folklorika" vocal trio "Eurydice" and orchestra "Traki".
The event is unique in nature, because it will be only until the folk music concert performed by amateur dancers and singers, graduates of the school "Folklorika."
Tickets can be purchased in the Club "Folklorika" or funds of the National Palace of Culture - Sofia on 28 November 2012.

School for folk dances "Folklorika" opened in March 2006., The House of Culture "Sredets". It was created by Evelina Pavlova (choreographer), which was prompted by the interest of many people who want to learn Bulgarian folk dances for fun and touch our roots.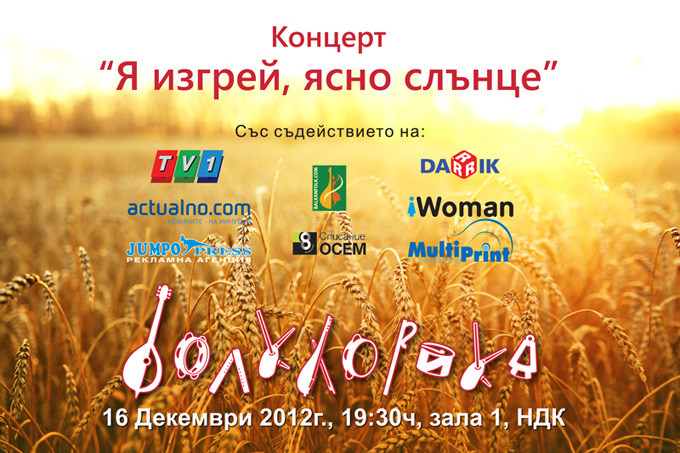 Official website of Folklorika Club for Bulgarian dances Folklorika - folklorika.com
Presentation of Folklorika dance club in ArtBF.com - folklorika.artbf.com