Balkanfolk News
www.balkanfolk.com
Festal Folklore Concert
17 December 2006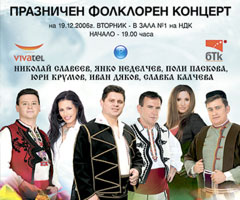 The whole month of December is full with joyful occasions. This is the month when the atmosphere is the most festal because of the fact that Christmas' spirit is strongly felt. What is Christmas – vicinity, warmth, coziness, holyness and most of all love. The magic is in feeling the positive emotions, in being together.

Christmas is a tradition, and Payner music company has always kept the traditions, even gave the beginning to some good music traditions. And now, just before the holidays, when we expect and dream of a place in a United Europe the Music Company founds a new holiday – folklore songs and dances concert. It is hall 1 at the National Palace of Culture where the company's concerts are usually held and this is the first time to organize a concert-spectacle of folklore art. On December 19 some of the most popular folklore singers and musicians will perform at the prestigious stage. The concert will be a reverence to our precious Bulgarian songs, which kept our national spirit through the times.

The professionals of folklore singing – Slavka Kalcheva, Ivan Dyakov, Poli Paskova, Nikolay Slaveev, Yuri Krumov and Yanko Nedelchev, will perform their most loved songs. As to the colouring, dynamics and the live spirit of the concert, a few more troupes will contribute – '101 kaba gaidas', 'Smolyani' dance formation, 'Slavey' band, 'Pirin' ensemble, 'Ethno rhythm' dance formation, ' 'Chinari' ensemble and 'Trakia' ensemble. The singers, players and dancers are rehearsing hard to prepare their performance.

Trakia's lively dances will be a background for Slavka Kalchev's performance. She will present two pieces - one includes song of her last album and the other is composed of her biggest hits like 'Byala roza', 'Beli galabi', 'Momina salza'. She is the most popular and loved folklore singer and has already published six solo albums. Slavka Kalcheva was awarded numerous times – at the 'Trakia folk' festival, by 'Planeta' television, by 'Nov folk' magazine. She is a singer, who doesn't need advertisements or presentations. All the years she leaves behind her she has worked and she sang at wedding parties, celebrations, fairs and concerts. The audience has confidence in what she does and loves her.

Ivan Dyakov will continue the raise of emotions in the hall with his warm lyrical voice. His performance will be accompanied by the choreography of the Pirin ensemble from Blagoevgrad. He is the 'king' of Macedonian songs and has prepared three pieces. The first two are a compilation of new songs of his current album and the third one is a mixture of his best songs. He has already spent 10 years on stage and was awarded by 'Pirin folk' Macedonian songs festival, VMRO and 'Planeta' TV prizes. It is interesting to mention the fact that his daughter will take part in the concert. She will perform 'Az sam balgarche' (I am a Bulgarian) and the little dancers from 'Pirinska kitka', Blagoevgrad will dance around her.

Poli Paskova is a singer of many styles and she stands along with the biggest names of folklore music in a fitting manner. She is one of the few singers that try to revive Bulgarian folklore by imposing author's music on Macedonian folklore basis. The last few years she has been awarded by 'Skopski filigrani' festival, 'Pirin folk'. She is not only a unique and real singer but also a true Bulgarian. At her concerts, she always manages to reach the audience's heart for a few minutes and finds friends everywhere with her professional singing and natural behavior on stage. Recently each her song becomes a favourite to the audience. The last hit was a duet with Boris Dali – "Trudno se rojba otglejda'. This amazing song took the prize of 'Planeta' TV at this year's 'Pirin folk'. Poli will perform along with the dancers from 'Ethno rhythm' dance formation.

Nikolay Slaveev is a folklore singer with unlimited possibilities. He performs very well both Macedonian songs and songs from the Rhodopes, which are his trademark. He is well-know for the ornaments of his performances. His repertoire is rich and has respectively won many prizes from 'Trakia folk' and 'Pirin folk' festivals. Therefore he is frequently invited to different celebrations and festivals. 'Rhodopes' voice', as they call him, will take us to the debris of the Rhodopa mountain with his most popular songs: 'Ya dai mi mamo dve po 500', 'Izlel e Delyo haidutin', Oti mi sa goro navdigash'. The 'Slavey' band and '101 kaba gaidas' will accompany Slaveev's performance.

Yuri Krumov, the soul of the ensemble, is next. He is the best singing dancer or the best dancing singer amongst Payener Music's catalogue. With each performance of his, year after year he gains ground as an excellent person of art, who really knows a lot about how to make a spectacle. Yuri Krumov has grown up in the atmosphere of Macedonian songs and he always dances a lot on stage while singing, together with the ensembles that accompany his performances. It is the 'Chinari' ensemble that will partner him in the National Palace of Culture this time.

Yanko Nedelchev is from the young generation folklore singers, who were fated to continue the line of the art of former to next generations. He has participated six times in 'Pirin folk' festival; he is a laureate of numerous prizes from Macedonia songs festivals. His voice is interesting, soft and meanwhile rich of overtones. He is the right person to perform Macedonian songs.

December 19, one concert, six performers and a few thousands happy hearts, full of the warmth of the Bulgarian treasure – the folklore songs. Nowadays, on the brink of Europe, or music, our art and folklore are the things which should be Bulgaria's visiting card.