BF 030120 - Saya - Bulgarian Women's Costume from Shoppe Region
By: Balkanfolk Atelier





Saya is a woman costume from shoppian region in the areas of Kyustendil and Radomir. The complete costume is composed by a white shirt, sukman (dress), deck and belt.

Costume includes:
030101 - Shirt (riza)
030122 - (saia - green)
030103 - Apron (prestilka)
030105 - Belt (poyas)
030109 - (nagradnik)

It is important to send us your measurements by clicking on the link on your order confirmation. For orders more than 10, please contact us.

Handkerchief and knitted socks my be ordered additionally.

Photos of Saya - Bulgarian Women's Costume from the Region of Kjustendil from our customers:


Ralitsa Nikolova - Formation "Nashenci"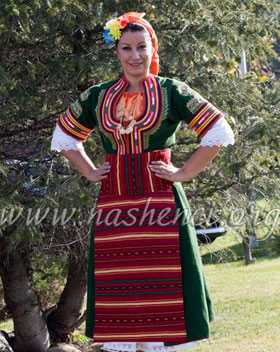 Balkanfolk fotos