Die Gemeinde Blagoevgrad, unter der Schirmherrschaft von Bürgermeister Blagoevgrad Lazar Prichkapov, organisiert die zweite Ausgabe des internationalen Festivals "Mazedonien Folk" vom 21. bis 24. September 2006.

Das Festival ist ein Wettbewerb in vier Kategorien:

Erste - für die Interpreten und Arrangeure der traditionellen städtischen Songs. Each performer or arranger may take part with two songs. Jeder Performer oder Arrangeur kann mit zwei Songs.
Zweitens - für die Dichter, Komponisten, Arrangeure, Interpreten, die die Songs auf mazedonische Folklore. Each creator or team may take part with two songs. Jeder Schöpfer oder Teams kann mit zwei Songs.
Drittens - für Kinder und Jugendliche, Kinder oder jugendliche Gruppen, die Durchführung Folklore, die traditionellen städtischen oder mazedonische Folklore auf der Grundlage Songs.
Vierte - für die Interpreten und Gruppen, die die Authentizität und Originalität der traditionellen Kunst und Kultur der Region Mazedonien Folklore.
Mehr als 400 Gruppen und einzelnen Länder nahmen an den Rahmen des Festivals. Sie alle vertreten ihre künstlerischen Fähigkeiten auf die drei Phasen: im Bereich der Bachinovo, der Freien Theaters in der Varosha Quartal und dem Hauptplatz George Izmirliev.
Am 23. September 2006 wird eine Jury, unter der Leitung von Nikolai Kaufman, mit dem Gewinner: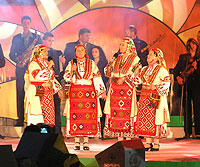 "Spomen za Egeya" - Big prize
music and arrangement: Dimitar Dinev
lyrics: Katya Kiryanova
performing: Vladislav Valchev

Evtim Evtimov – First prize for lyrics
"Magic of the Pirin"
music: Toncho Rusev
arrangement: Plamen Velinov
performing: Svetlana Trifonova

Zornitsa Quartet - winners of the singing competition of authentic folklore at "Cheverme Fest" in the Bachinovo park.
"Daj kape, Kate"
music and lyrics: folklore


Dimitar Nikolaev - winner of the children's competition "Start for the stars".
"Babo le babo Georgie"
music and lyrics: folklore
performing: Dimitar Nikolakiev from the juvenile ensemble "Pirinska kitka"


The gala performance 'The Balkans for Europe' was held on 24 September 2006 and this put an end to the festival. The audience at Blagoevgrad had the chance to see performers and groups from Turkey, Serbia, Croatia, Macedonia, Greece and Bulgaria – Theodossi Spassov, the Kanarite orchestra, Eva Quartet, the Pirin Ensemble and Vesselin Marinov.